It will probably take some time before Jackson can ride a bike. It took him one year to sit, another year to walk. His vestibular organs don't work so his development falls behind in this area. We've learned to give him time, his body and mind will tell us when he's ready to take a next step.
He's getting too big for his favorite ride on car, or most of the other ride on cars. They are made for smaller kids, and Jackson is outgrowing them. He's in need of some new wheels, but he's not ready for a balance bike yet. And that's proven quite a difficult search.
Eventually we found a Trybike at Het Land van Ooit. A 2-in-1 balance bike that not only looks awesome, we can totally fit it to Jacksons needs. For now we use it as a tricycle. Thanks to a control disc we can adjust the settings and J will be good on the tricycle for the coming months (year). Once he's ready, we can convert the tricycle into a bicycle. Trybike claims to be the best balance bike for children with a disability or a less developed sense of balance. Well, let's find out!
J happily tested the Trybike riding around the store.  My husband and I were quickly convinced after checking out all the specifications. We were relieved to have found a suitable (and beautiful) bike for Jackson, and it's a Dutch design too… Now let's wait for spring so we can take it outside!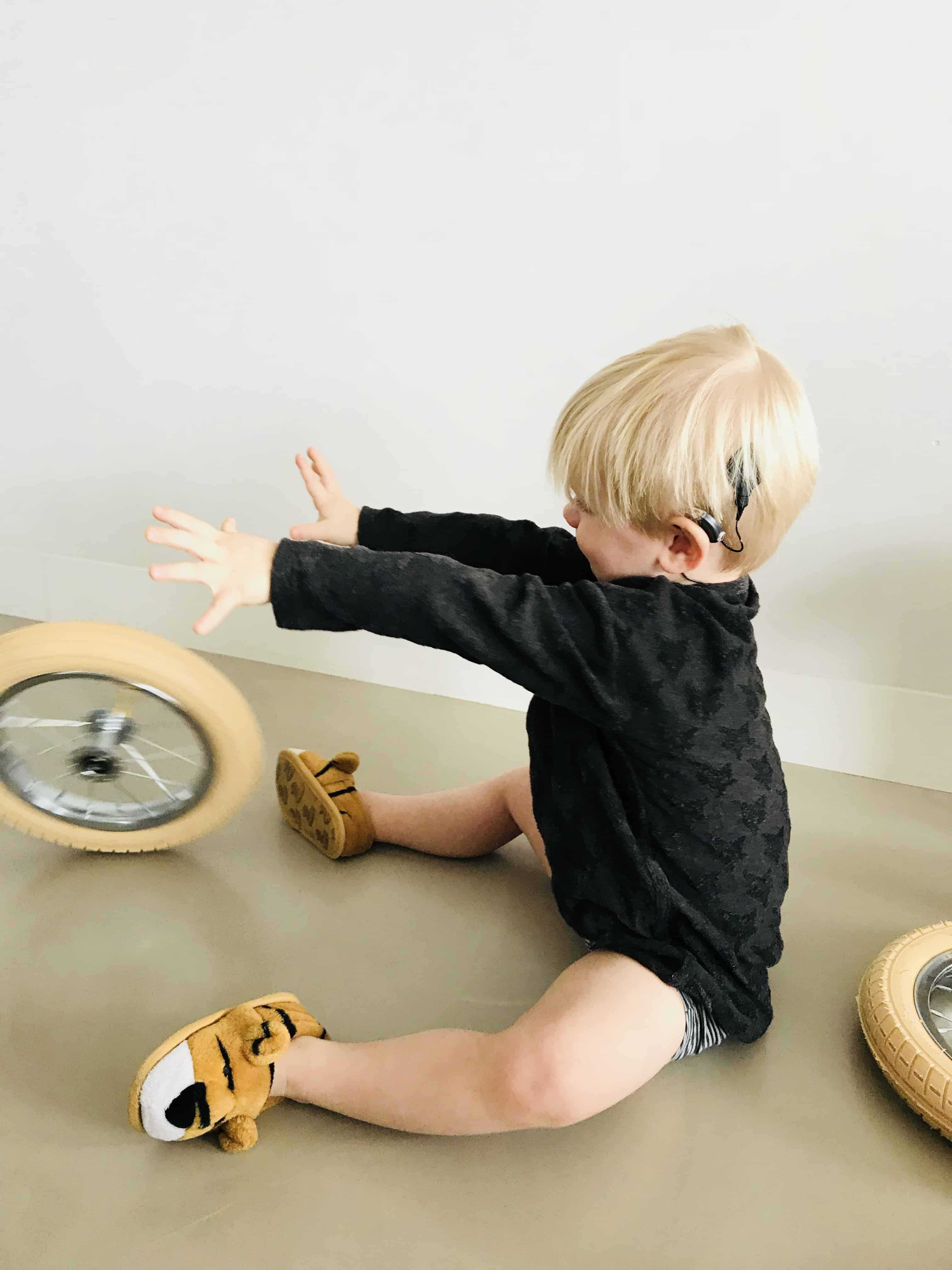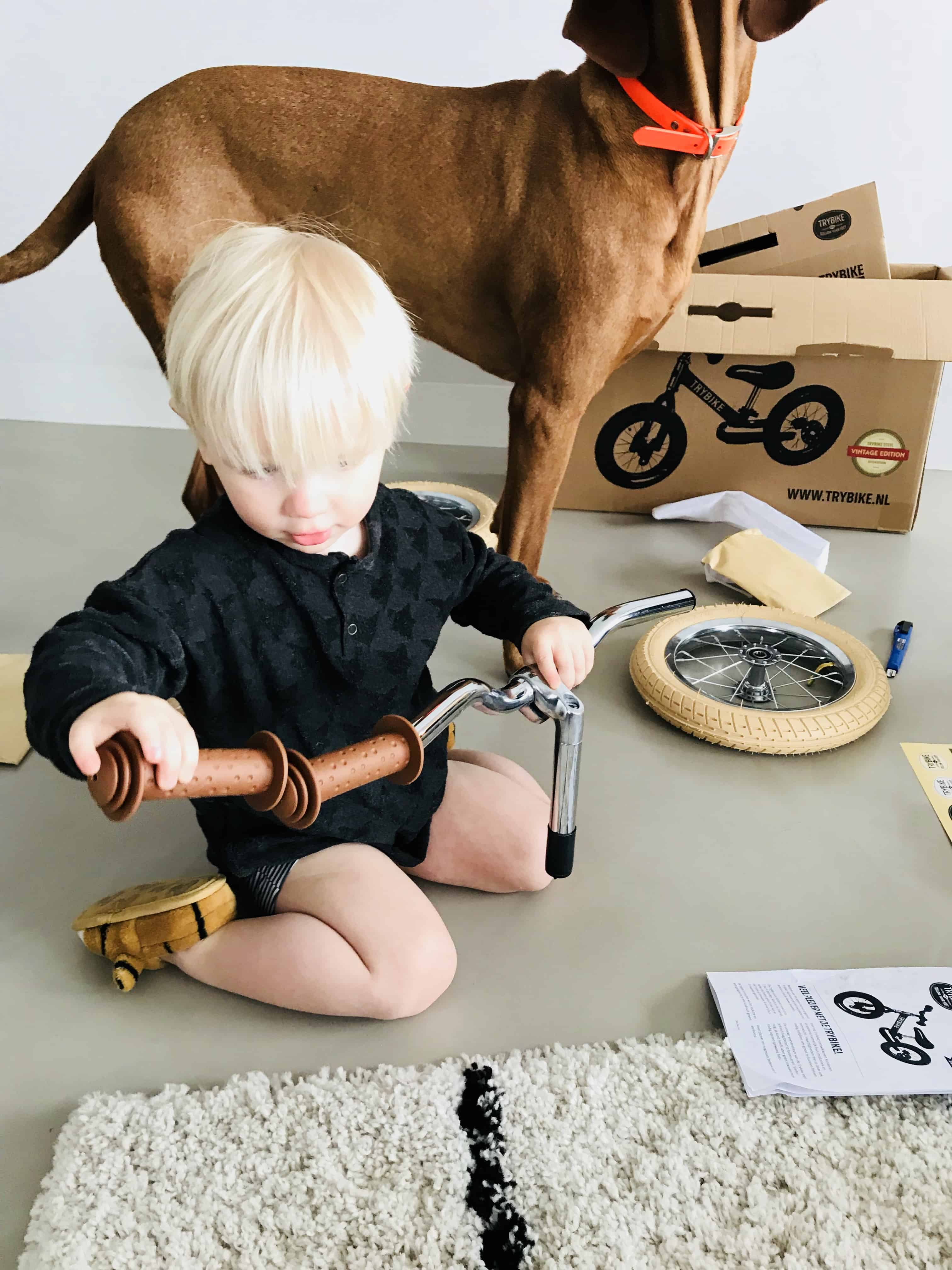 Het zal waarschijnlijk nog wel even duren voordat Jackson kan fietsen, vanwege zijn (gebrek aan natuurlijk) evenwicht loopt hij op dat vlak wat achter. Hij zat pas zelfstandig toen hij ruim een jaar was, lopen volgde een jaar later. Prima, hij vindt zijn weg wel. Hij is natuurlijk al een flinke peuter, en zijn favo loopauto is te klein geworden. Veel van dat soort speelgoed waarbij een kind ergens op kan zitten zich al lopend kan voortbewegen zijn maar gemaakt voor kinderen tot 1,5/2 jaar. Logisch, daarna volgt de volgende stap. Maar Jackson is zover nog niet. Een loopfiets, hoe stoer ik ze ook vind, daar valt hij direct mee om.
We waren dus op zoek naar 'new wheels', iets waarbij hij zich als een speer kon verplaatsen, maar waarbij hij niet (steeds) zou omvallen, en het liefst ook niet hoefde te trappen. Passend bij zijn leeftijd en lengte. Niet zo heel gemakkelijk.
Bij Het Land van Ooit vonden we uiteindelijk een Trybike. Een 2-in-1 loopfiets die er niet alleen prachtig uitziet maar die we ook helemaal op Jackson kunnen afstemmen. Nu gebruiken we het als een driewieler, eentje waar hij de komende maanden (jaar) nog prima op past. Dankzij een control disc kunnen we de fiets namelijk perfect instellen voor het niveau en vaardigheden van Jackson. Als hij er klaar voor is kunnen we de driewieler ombouwen tot een loopfiets. Trybike zegt de beste loopfiets te zijn voor kinderen met een beperking of met een minder ontwikkeld evenwichtsgevoel. Dat testen wij graag uit!
In de winkel reed J er al vrolijk mee rond en wij waren na alle uitleg eigenlijk ook direct verkocht. Wat een vondst, en ook nog eens een Nederlands ontwerp! Inmiddels is de doos uitgepakt en staat de fiets in elkaar, nu nog wachten tot de lente komt en dan hup naar buiten.